AUBERGE DE LA TOUR
05 65 36 90 05
Nicole, Erwin, Nikolet, Abdur and Mirabelle
welcome you in Sauzet!  
make a RESERVATION
Once upon a time,
in 1228 …
Cardaillac William, Bishop of Cahors paid tribute to Saint Louis for forty cities, villages and castles that make up his area, Sauzet is one of them.
The Guiscard were the first vassals of the bishops in 1270.
After the Hundred Years War ends, the inhabitants of the neighboring countries arre caled upon to repopulate the province of Quercy, battered and deserted by more than a century of conflict.
A family of Rouergue, the Gautier de Savignac, will buy the lordship of Sauzet, and perhaps one of them who erected the lair. The village will know lootings and abuses during the holy wars. During all the seventeenth century the castle was besieged many times.
After many adventures and many other owners: Hugues de Moncoutié, Antoine Des Plats musketeer of the King, a villager named Cournou… some of its ancient walls have now become the "Auberge de la Tour" held by Nicole & Erwin, wishing you a very pleasant stay…
Quercy has kept much of it's architectural history.
It's in the old tower of the Château de Sauzet, dating from the XIIIth century, that the VIGNAL-POL family founded L'AUBERGE DE LA TOUR in 1934.
The hotel and the restaurant were completely restored in 2010. Great care was taken to preserve the character of the original construction.
Today, you can have lunch in a warm and very picturesque restaurant dining room. To get to the rooms one has to take the tower staircase…
You can now discover our new rooms, renovated with air conditionning and a newsuite with a separate bedroom and a bathroom.
A salon has been added for our guests.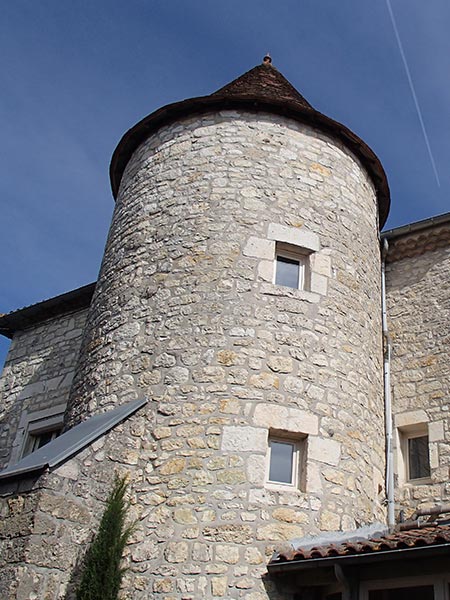 Rooms full of character on 1st and 2nd floors reached via the spiral staircase in the 13th-century Tower.
All rooms are equipped with LCD TV (Digital TV, Satellite), telephone & free wifi. 
All rooms are non-smoking.
N° 1 – 4 – 5 – 7
Double bedrooms « Comfort »
– air conditioning
– 1 large bed (1 or 2 pers)
– bathroom
– TV led (T.N.T and Canal+.)
– telephone, wifi.
BS :  63 €
HS :  68 €
1/2 board
BS : 115 €
HS : 120 €
N° 2 – 3  
Double bedrooms « Great comfort » – twin
– lounge area
– air conditioning
– N°2 : 1 large bed (1 or 2 pers)
– N°3 : win beds (2x1pers beds)
– bathroom
– TV led (T.N.T and Canal+.)
– telephone, wifi.
BS :  73 €
HS :  78 €
1/2 board 
BS : 125 €
HS : 130 €
N°6 suite 
Double bedroom « Great comfort » – suite
– lounge area
– air conditioning
– bathroom
– TV led (T.N.T and Canal+.)
– telephone, wifi.
BS :  78 €
HS :  83 €
1/2 board 
BS : 130 €
HS : 140 €
N° 8 Suite 
 Suite « Greater comfort »
– air conditioning
separated lounge & bedroom
(1 large bed for 1 or 2 pers)
+ bathroom with bathtub
– TV led (T.N.T and Canal+.)
– telephone, wifi.
BS : 88 €
HS : 93 €
1/2 board 
BS : 140 €
HS : 150 €
1/2 board
: for 2 persons
3 consecutive nights upwards (Excluding drinks)
For 1 person :
Halfboard : BS : 75 € – HS : 85 €
Business stopovers starting at 68 €, 78 €, 88 €
For 3rd and 4th person
staying in a double room, half board:
Child < 12 ans : 35 €
Adult : 45 €
Child < 8 ans: free
Cot (< 2 ans) : free
BS : Low season 5/01/2019 to 31/04/2019
and 01/10/2019 to 31/12/2019
HS : Peak season 01/05/2019 to 30/09/2019
Buffet breakfast = 8,50 €
Extra single bed = 12 €
Extra double bed = 15 €
(chambre N° 3  and suites)
Dog = 7 € (per night)
Full board is calculated based on half board + 15 € (minimum of 3 consecutive days)
In the Pays de Sauzet set in the heart of the Cahors vineyards, where the sun shines brightly on the white rocks and stones, you will find the villages of Montcuq and Castelnau-Montratier in Quercy the "White", villages that will seduce you with their stone houses and picturesque market squares.
In Cahors, only 15 kms away, enjoy a stroll in this town rich with history.
In the "Pays de Cahors", upstream of the River Lot, admire the vineyards that line the river banks. You will be amazed by the many chateaux and hillside villages overlooking the beautiful landscape.
From the banks of the Dordogne to the Quercy Blanc hillsides, the Regional Nature Reserve of the Causses* du Quercy offers wonderfully preserved surroundings. The Causse de Gramat is a magical water-filled landscape where you can admire the Padirac Abyss. In Rocamadour, enjoy the Medieval city perched on the cliffs of the Alzou Canyon, a city listed as the second most important site in France. It is still an essential part of the Pilgrimage to Santiago de Compostela.
Further East, Figeac will astonish you with its rich and varied heritage: Renaissance hotels, urban palaces, narrow Medieval streets… and of course the Museum Champollion created in the original home of the Egyptologist.
And further afield: the "Pays Bourian" in neighbouring Périgord (Gourdon) and the Dordogne Valley (Souillac) will charm you with their diverse landscapes, beautiful rivers and the tranquillity of a meal in an inn – or why not a gourmet meal in a famous restaurant…
Between December and March, you can discover truffles (known as the Black Pearl and the Black Diamond) in the market at Lalbenque, around 20 kms from Sauzet.
If you enjoy hiking or biking, we can provide you with itineraries based on your wishes.
*a causse is a limestone plateau typical of the region.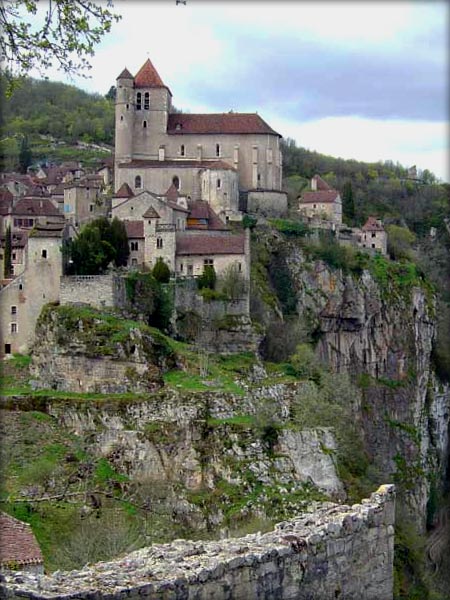 "Une équipe en Or, Souriante, Agréable et fort Sympathique."
"Un lieux Superbe et une gastronomie simple et superbement orchestré par les produits locaux frais,,,
Un grand Bravo…
Nous y reviendrons c'est sûr..
Encore merci pour votre acceuil…"
Mr Bolos
"Excellent food and service. Will definitely return again!"
"Een erg vriendelijke herberg in een klein dorpje."
"Goede uitvalsplek voor bezoek aan Cahors. Mooie badkamer, lekker warme regendouche."
Andre Limpens
"Merci a Nicole et Erwin pour ce merveilleux séjour a l'auberge de la tour."
"Une ambiance et un accueil chaleureux accompagné de repas tout simplement un délice pour le palais. Nous vous remercions pour ce moment d'évasion et de découvertes. A très bientôt. Vanessa et Franck."
Vaness St
AUBERGE DE LA TOUR
133 GRAND' RUE
46140 SAUZET
Tél : 05 65 36 90 05
GPS : 1° 15′ 17″ E – 44° 25′ 4″ N